I'll be your mirror
2012/2013 4ème année Master
« I'll be your mirror
Reflect what you are, in case you don't know
I'll be the wind, the rain and the sunset
The light on your door to show that you're home »
- The Velvet Underground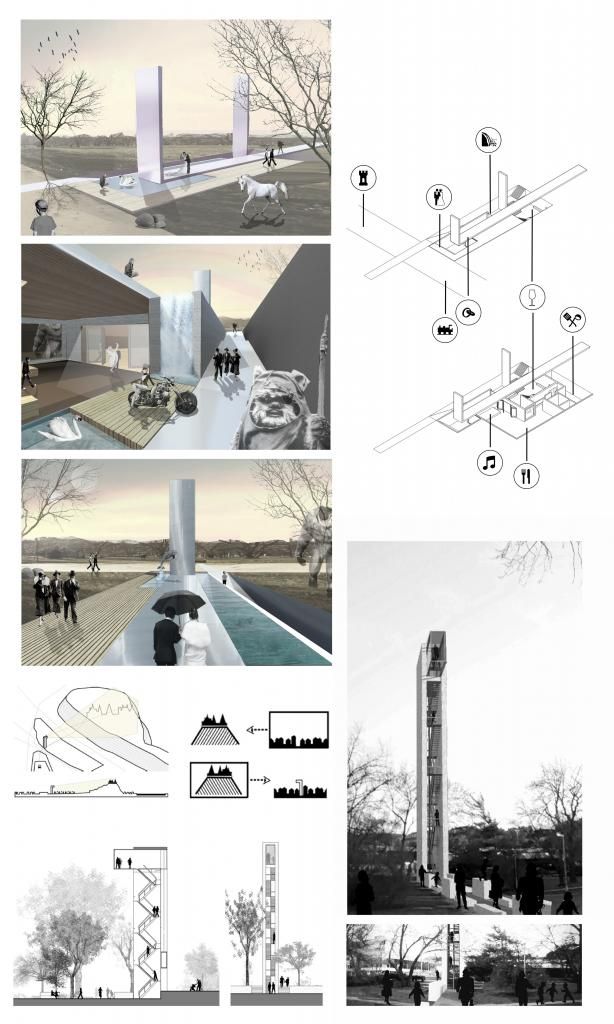 FR/ Projet de deux pavillons dans le parc Vérmezo à l'Ouest de Budapest.
Le premier pavillon célèbre l'union et l'amour. Il retranscrit littéralement les paroles du Velvet Underground traduisant l'amour à travers l'idée de miroirs.
C'est donc par la mise en place de verticalités « miroirs » et d'un plan d'eau/cascade que le jeu de réflexion lumineuse se met en place.
La lumière à travers l'effet miroir connecte les espaces et exploite différentes ambiances.
Chaque ambiance correspond à un usage propre d'une cérémonie d'union : la passerelle infinie, la cascade rafraîchissante, le bain des vœux, le sous marin dansant etc.
Le deuxième pavillon est un observatoire vertical permettant de connecter visuellement le parc Vérmezo au château de Buda situé sur les hauteurs.
ENG/ Project of two pavilions in the park Vérmezo in the west part of Budapest.
The first pavilion celebrate union and love. It literally transcribed the words of the Velvet Underground's love song through the idea of mirrors.
Light through the mirror effects connects spaces and operates different atmospheres.
The second is a vertical viewpoint that visually connect the Vérmezo park to the Buda Castle located on the hills.